July 25, 2012 at 9:18pm
Home
On January first, I was walking home on my usual route, when I saw hundreds of Origami swans flying over Maraashli St in Cairo. The swans decorated the entire block, high up on the trees, and they flew over the local Mosque and cafes. It was a surprising and splendid site - which really made my day. This temporary installation transformed Maraashli street into a whimsical origami playground.
So, I was really excited to learn about French artist Mademoiselle Maurice's urban origami installations of abstract shapes in absolutely beautiful and bold spectrums of color.
These gorgeous, colorful bursts of street art are installed in the streets of Vietnam, Hong Kong and her native France.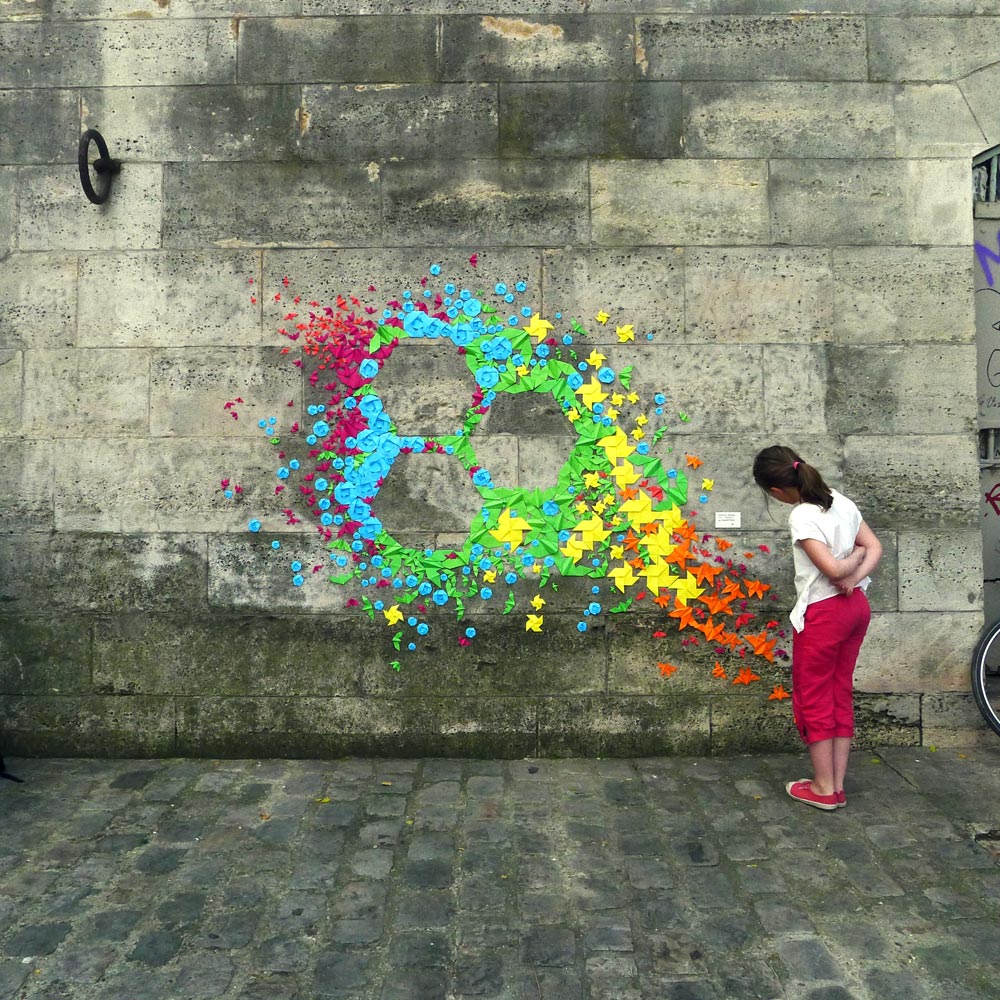 Mademoiselle Maurice creates geometric shapes out of hundreds of vividly colored origami structures on street walls. The above installation is a tribute to endangered bees using the "Simplicity and geometry of the hexagon, one of the most perfect natural form built by the bees."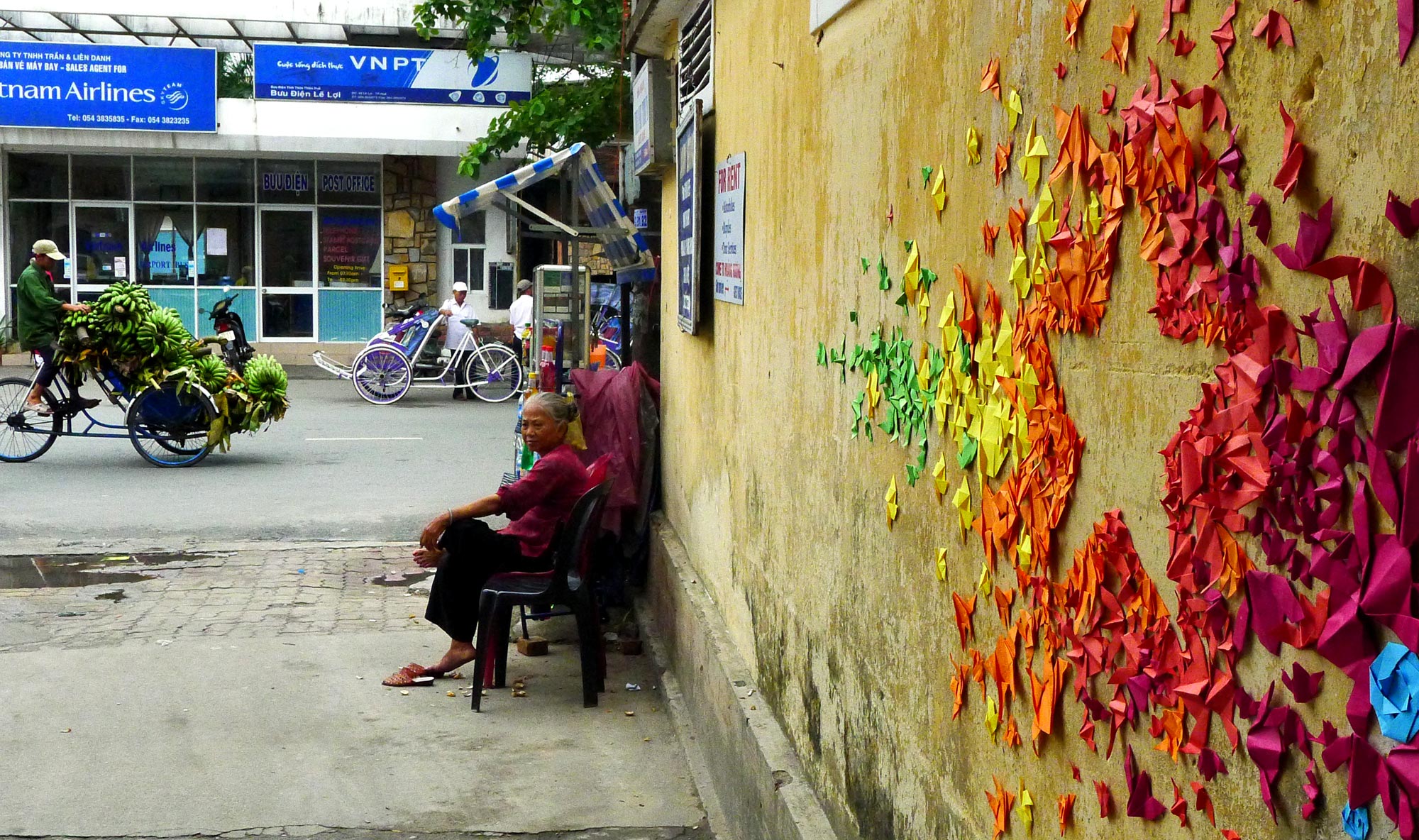 For Vietnam, Maurice reinterpreted the star of the national flag, for all the "farmers, students, works, intellectuals, soliders" who fought for independence.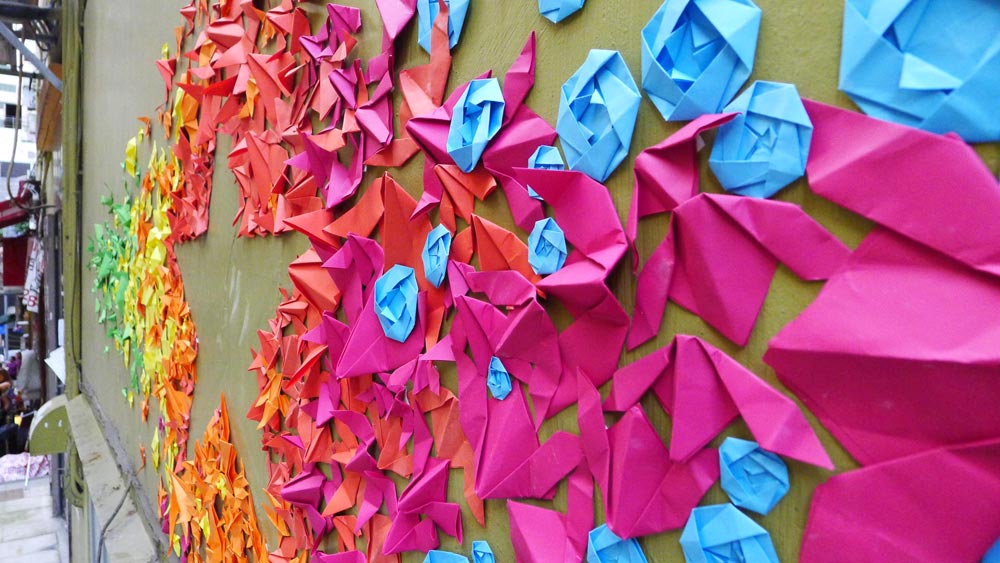 Maurice says she was inspired to create this series after spending a year in Japan and experiencing the March 11, 2011 explosion of the Fukushima nuclear plant. She wanted to create a tribute to Sadako Sasaki, and all Japanese people and victims of nuclear disasters. 
Sadako Sasaki was a child that lived through the 1945 Hiroshima bombing, and consequently, succumbed to illness. There is a Japanese legend where folding 1,000 cranes, will make your wish come true. Sadako wished to heal from her illness, but died after folding 644 cranes. 
Maurice wanted to revisit this page of history and to create a memorial for victims of violence all over the world by using the international symbol of peace - the origami crane. She says:
The message is hard, but speaking about it in a dark manner wasn't necessary for me. 
Because, she continues, she believes in the words of Harald Zindler: "The optimism of the action is better than the pessimism of the thought." 
I find her inspiration for the series, the ephemeral nature of the paper she uses, and her body of work extremely moving, whimsical, optimistic and wonderfully beautiful.
Via Design Boom, where you can learn more about the project.